The University of Toronto has been building Tibetan Studies for more than a decade, and our undergraduate and graduate programs are strong and growing rapidly. Since the beginning of our Tibetan Studies programs in 2003, faculty and graduate students working in the area have been competitively awarded several million dollars in research funding, several doctoral students have graduated and moved on to teaching positions in Tibetan Studies, and our library has become the largest Tibetan collection in Canada.
Tibetan Studies as a field focuses on one of the most significant and largest areas in the entire Euro-Asian continent. Cultural Tibet—far more extensive than either political Tibet or ethnic Tibet—embraces large portions of current states of India, Russia, some formerly Soviet states, China, and Mongolia, and covers most of the Himalayan belt. The region is therefore critical for understanding the interactions between South, Central and East Asia both in the past and in the present. Recently, it has emerged as a focus of concern in terms of strategic relationships between North America and the People's Republic of China, as well as between China and India.
Of equal significance is Tibet's huge literary heritage, Tibetan being a medium of communication among Inner Asians for over a millennium. The region has been the source of massive literary production since the 8th century, producing translations that are the only forms in which many Indian and Chinese works now survive. Finally, it constitutes one of the four most important sources for understanding Buddhism, one of the world's major religious civilizations. Tibetan Studies as a field is thus unusual in its huge geographical expanse, historical and modern importance, and intense global public interest.
Tibetan Studies at the University of Toronto
The University of Toronto has the largest contingent of Buddhist studies experts in Canada. These scholars teach and conduct research on history, practice, art, philosophy, medicine and other aspects of Buddhist Studies, focusing on Buddhist regions of South Asia, the Himalayas, Nepal, Burma/Myanmar, Central Asia, Tibet, China, Korea and Japan. In Fall 2016 the University of Toronto launched The Robert H. N. Ho Family Foundation Centre for Buddhist Studies on its St. George campus. Providing an intellectual home for faculty and students in Buddhist Studies across the University, the Centre is housed within the University's Department for the Study of Religion. The Centre supports academic training, collaborative research with graduate and undergraduate students, and a program of events that engage scholars and the public seeking to deepen understanding of the diversity of Buddhist traditions around the world.
The University of Toronto has faculty members whose research is directly focused on Tibetan Studies, a native Tibetan doctoral student who also teaches Tibetan language, and a number of research partners working with our community in Tibet Studies. In addition to these instructors, other faculty affiliated with the Centre for Buddhist Studies also teach on a range of topics related to Tibetan Studies.
Frances Garrett, Inaugural Director (2016-2021) of the Robert H. N. Ho Family Foundation Centre for Buddhist Studies and Associate Professor of Tibetan Studies, has taught in the Department for the Study of Religion at the University of Toronto since 2003. She has a B.A. in Philosophy from Columbia University and a Ph.D. in Religious Studies from the University of Virginia. Her research has examined the intersections between tantric practice, ritual and occult knowledge and medical theory, and what these tell us about the processes of institutional and ideological change in Tibet. She has also worked on the Tibetan King Gesar epic. She is now beginning a project focused on contemporary and historical stories about Mt Khangchendzonga, together with colleagues in Toronto and Sikkim. With a team of colleagues and students she has developed an online Classical Tibetan language course, and she has led several Tibetan Studies field research courses in Sikkim.
Rory Lindsay, Assistant Professor in the Department for the Study of Religion, holds a BA and MA in Buddhist Studies from the University of Toronto and a PhD in Tibetan Studies from Harvard University. He is an editor at 84000: Translating the Words of the Buddha and a visiting scholar at the Buddhist Texts Translation Initiative the University of California, Santa Barbara. His forthcoming book Saving the Dead: Tibetan Funerary Rituals in the Tradition of the Sarvadurgatipariśodhana Tantra (Wiener Studien zur Tibetologie und Buddhismuskunde, 2021) examines the history of Kunrik funerary practices in Tibet and the intersecting forms of agency—human, nonhuman, and material—that are described in Kunrik ritual manuals. His second book, coauthored with Tibetan scholar Khenpo Tashi Dorje, will examine the life and writings of the twentieth-century master Drayab Lodrö Gyaltsen.
Sarah Richardson, Assistant Professor in the Department of Historical Studies at University of Toronto Mississauga, is a historian of Tibetan arts and religions with a specialization in Buddhist visual and material practice. She has a B.A. in Anthropology from McGill University and holds a PhD in Art History from the University of Toronto. Sarah's forthcoming book, Temple, Image, Text: Word Made Visual in Tibetan Religious Architecture, is the first in-depth study to investigate the inscribed murals at the fourteenth-century Tibetan monastery of Shalu. For years Sarah has researched the largely unpublished Tibetan painting collection at the Royal Ontario Museum (ROM). She plans to curate the first exhibition of this material in 2020.
Henry Shiu, Assistant Professor of Buddhist Studies at Emmanuel College, is a graduate of the University of Toronto, where his doctoral dissertation was supervised by Prof. Leonard Priestley at the Centre for the Study of Religion. Shiu's research focuses on historical and doctrinal studies of the Madhyamaka and Yogacara traditions, using Chinese, Tibetan, and Sanskrit sources. He also has research interests in contemporary Buddhist movements, Engaged Buddhism, and Buddhism in Canada. Shiu also has a deep interest in scholarly research on Western classical music and has published three books on this subject with Oxford University Press in Hong Kong.
Khenpo Kunga Sherab has worked at the Department for the Study of Religion (DSR) at the University of Toronto since 2009 both as a course instructor of Tibetan language and as a Research Consultant, assisting with student and faculty research and teaching in Tibetan Studies and serving as a researcher on several collaborative projects. Kunga began his doctoral work in 2016, where he is researching contemporary Tibetan Buddhist scholars' engagement with science with a particular interest in Buddhist and contemporary scientific theories of consciousness, karma and reincarnation. Kunga received his MA at the University of Toronto in 2014. Before coming to the University of Toronto, Khenpo received traditional Tibetan Buddhist monastic education and earned the advanced title of Khenpo in 2005 from the Dzongsar Institute for Advanced Studies of Buddhist Philosophy and Research in India. He then taught for many years at Dzongsar Institute, India and Zurmang Buddhist College in Sikkim, India. He is the author of several works on Buddhist philosophy in Tibetan.
Dakpa Gyatso Acharya is a native Tibetan translator and researcher. He studied at the Central University of Tibetan Studies, Sarnath, majoring Buddhist philosophy and Tibetan language, where he earned the Shastri [BA] and Acharya degrees [MA]. After completion of the Acharya degree, he served as the personal secretary to Gyetrul Jigme Rinpoche, son of Terton Namkha Drimed Rabjam Rinpoche. During his work, he also served as the head of the Ripa Private Office and translator of Terton Namkha Rinpoche. He travelled extensively with Gyetrul Jigme Rinpoche in this capacity. Dakpa has translated and edited numerous articles and books including the "Activities of Vidyadhara Chogyam Trungpa Rinpoche in the West," the Historical and Religious Life of the King Gesar of Ling [Tibetan], the entire cycle of Tagsham Samten Lingpa's treasure-teachings (termas) for International Nyingma Buddhist Encyclopedia, the Ripa Buddhist Monastic Code, Odisha Buddhist Connection and so on. Dakpa has been working on his own book-in-progress: the Encyclopedic Dictionary of Tibetan Buddhism in Tibetan-Sanskrit-English and its commentary. In 2014, he came to Nova Scotia, Halifax, where he lived for three years working with Nalanda Translation Committee. In April 2017, he moved to Toronto along with his wife and daughter. Currently, he lives in Toronto working with Prof. Frances Garrett and with the Centre for Buddhist Studies; he also works for Nalanda Translation Committee, and the Berzin Archive e.V. as a translator and editor.
Maria Turek is a Tibetologist living and working in Toronto; since 2019 she has been teaching at the University of Toronto Scarborough. She is also affiliated with the Department of Mongolian and Tibetan Studies at Rheinische Friedrich-Wilhelms-Universität Bonn. Her research interests focus on Eastern Tibet, especially the former kingdoms of Nangchen and Dege, their histories, current religious revival, literature and memory practices. More broadly, she is interested in sainthood and charisma in contemporary Tibetan societies as well as in Tibetan and Buddhist materialities. She is currently working on a monograph on the revival of Tibetan hermitism in Kham.
Michael Ium is a historian of religion with specialties in Tibet and South Asia. His research explores how both religious traditions and their scholarly depictions have been constructed.
Kristina Dy-Liacco is the Tibetan Studies Librarian of the C.V. Starr East Asian Library at Columbia University, and under the terms of the international cooperation agreement between the University of Toronto Libraries and the Columbia University Libraries, Kristina will also be leading the work of coordinating Tibetan-language acquisitions and cataloguing at both institutions, and will provide research-support services to our U of T faculty and students. Kristina has 20 years of experience in librarianship related to Tibetan Studies, combined with her educational background in both library science (MLS from the University of Wisconsin-Madison) and Tibetan Studies (MA from Indiana University). She previously worked at the Latse Library, a prominent Tibetan research library located in New York City, for 18 years. She is also a co-founder of the Latse Project, a non-profit organization dedicated to promoting Tibetan language use and literacy, the exchange of ideas, and facilitating access to knowledge for Tibetan and Tibetan studies communities by the creation and sharing of resources.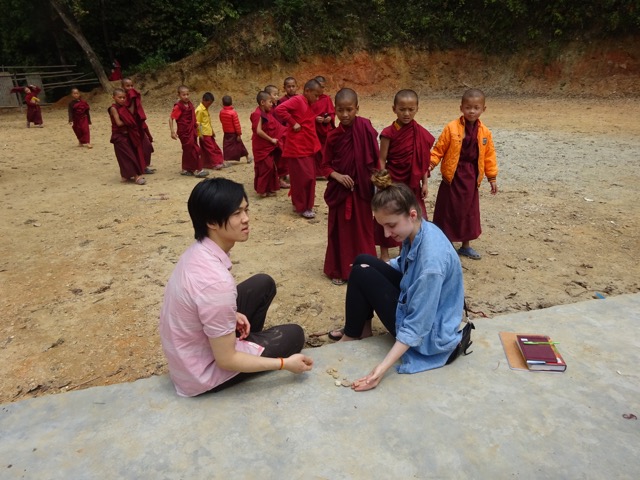 Students in Tibetan Studies
The graduate degree program in Buddhist Studies is also housed in the Department for the Study of Religion, which is the largest department in religious studies in Canada and among the top in North America. Graduate students in Buddhist Studies also regularly accompany faculty members on research trips or conduct their own graduate research abroad, traveling in recent years to India, China, Tibet, Myanmar, Nepal, Taiwan, and Mongolia, and most graduate students participate in faculty research clusters in Buddhist Studies. Students may enrol in coursework at the University in languages such as Chinese, Japanese, Sanskrit, Tibetan, Korean, Burmese, Pali, Newar, Nepali, and Vietnamese.
We now have seven active doctoral students in Tibetan Studies. Graduates of our doctoral program are now teaching Tibetan Studies at institutions such as the University of California Riverside; Davidson College in North Carolina; the University of Toronto Mississauga; and Langara College in British Columbia.
Undergraduate students enroll in courses on Buddhist Studies, Tibetan Studies and cognate topics offered through the Buddhist Studies Specialist and Major degree programs in the Department for the Study of Religion. A number of undergraduate students each year participate in advanced Buddhist Studies research training through faculty-led research clusters and international programs. Undergraduates also accompany faculty members abroad for research and study. Several opportunities have brought students interested in Buddhism and Tibetan Studies to Himalayan India on experiential field programs.
Tibetan Language Training
The University of Toronto has been teaching Tibetan language since 2005. Since 2009, many of these courses have been taught by Khenpo Kunga Sherab, who received his Khenpo degree in 2005 from the Dzongsar Institute for Advanced Studies of Buddhist Philosophy and Research in India and who then taught for many years at Dzongsar Institute and at Zurmang Buddhist College in Sikkim, before coming to Toronto where he has since also earned an MA degree and is currently working on his PhD.
In 2016, a U of T team published Nettle Online Tibetan, open-source, open-access software developed for online delivery of instruction in Classical Tibetan language. In addition to providing basic instruction in Classical Tibetan grammar and translation, the courses developed in Nettle teach contextual competencies relevant to producing scholarship in Religious Studies, History, or Linguistics using sources in Classical Tibetan. This project was funded by grants from the Canadian Ministry for Training, Colleges and Universities' Ontario Shared Online Course Fund and the Online Undergraduate Course Initiative at the University of Toronto.
Tibetan Library Resources
The Cheng Yu Tung East Asian Library is one of the major research collections on East Asian studies in North America. Our Tibetan Collection is housed here. It holds foreign language source materials for advanced research in Chinese, Japanese, Korean and Tibetan, containing more than 400,000 volumes. Other U of T libraries have extensive holdings in Hindi, Bengali, Tamil and Sanskrit, covering a range of Buddhist texts and secondary scholarship.
The U of T Libraries have the largest Tibetan language collection in Canada. The Library began purchasing subscriptions to the Tibetan Buddhist Resource Center's electronic text collections in 2008. In 2013, a collaboration between the University of Toronto and Columbia University's research libraries was established to harness expertise in Tibetan collection services at both universities and increase the availability of Tibetan resources to a wider community of scholars in both Canada and the United States. The partnership provides for jointly sponsored acquisitions trips to enhance the Tibetan collections at both universities, and a shared point of service for research consultations. Since this collaboration began, the U of T's Tibetan Collection has more than doubled in size.
The University of Toronto Libraries system is the largest academic library in Canada and is ranked third among peer institutions in North America, just behind Harvard and Yale. The system consists of 44 libraries located on three university campuses. This array of college libraries, special collections, and specialized libraries and information centres supports the teaching and research requirements of 215 graduate programs, 63 professional programs, and 709 undergraduate degree programs. In addition to more than 12 million print volumes in 128 languages, the library system currently provides access to more than 238,000 serial titles, 1,500,000 electronic resources in various forms and over 28,000 linear metres of archival material. More than 100,000 new print volumes are acquired each year.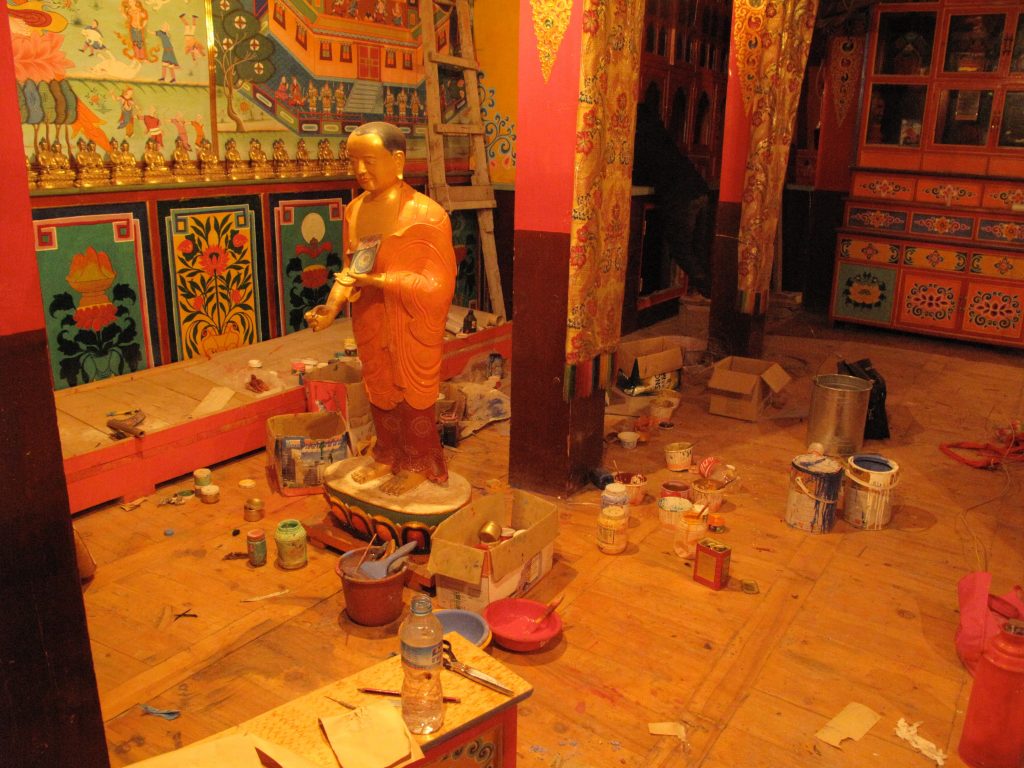 Connections with Tibetan Communities
Toronto has the largest Tibetan community outside Asia. We have many first or second generation Tibetan students on campus, some of whom enrol in our courses on Buddhist Studies and Tibetan language. We have had regular connections with local Tibetan scholars and Buddhist practitioners, many of whom have been invited to lecture, teach, or lead ritual performances on the campus. We host at least one major Tibetan Buddhist ritual on campus per year, which students attend as an experiential learning component of our undergraduate course on Buddhist Ritual.
Many other prominent Tibetans from outside Canada have visited our campus. His Holiness the Dalai Lama visited the University in 2004 and 2007, Sakya Trinzin lectured on campus in 2014, and His Holiness the Karmapa spent a day with us in 2017. We have also hosted several delegations of Tibetan academics from China over the last decade. Our faculty research projects have involved creating collaborative networks with Tibetan scholars at the Gesar Research Institute at Qinghai Nationalities University, the Qinghai Traditional Tibetan Medical Hospital and College, the Specialty Committee of Tibetan Medicine of the World Federation of Chinese Medicine Societies, the Namgyal Institute of Tibetology in Sikkim, Lingdum Monastery in Sikkim, and others.
Tibetan Studies Events on Campus
Many Tibetan Studies-focused events are run in collaboration with the Centre for Buddhist Studies, so to stay in touch, sign up for the Centre's mailing list, and follow our news on Facebook or Twitter. Also be sure to follow Tibetan Studies on Twitter @UTTibetan .
U of T Tibetan and Buddhist Studies in the News
2017
Building Communities and Cultivating Networks in the Field of Buddhist Studies
2016
Buddhist Studies celebrates a banner year
Immersion in Buddhist Culture in India Makes Lasting Impact
Of Mantras, Mysteries and Messy Manuscripts
University of Toronto launches The Robert H. N. Ho Family Foundation Centre for Buddhist Studies and appoints inaugural director
2013
U of T and Columbia University libraries launch Tibetan studies partnership
University of Toronto partnership to expand Columbia's Tibetan studies collection

Selected Faculty Grants for Tibetan Studies Research at U of T
2017: SSHRC Insight Grant, for "Expeditions to Paradise: Sacred Travel in the Himalaya"
2016: Dean's International Initiatives Fund, to support "Himalayan Borderlands" student field course in Sikkim, India
2016: MTCU-funded provincial Shared Online Course fund, to support the creation of an Online Classical Tibetan course
2016: University of Toronto Excellence Award, for "Mapping Pilgrimage in Himalayan Sikkim"
2015: Online Undergraduate Course Initiatives Award, to support the creation of an Online Classical Tibetan course
2015: Dean's International Initiatives Fund and TLKY Teaching Fund, to support "Mapping Buddhist Landscapes in Sikkim," student field research trip to Sikkim, India
2015: University of Toronto Excellence Award, for "Body, mind, culture and landscape in Himalayan healing"
2013: SSHRC small scale research award, for "Mountain, Landscapes and Sacred Geography"
2011: University of Toronto Excellence Award, for "Mapping devotion in Tibetan Buddhist communities"
2011: Research and Translation Contract from 84,000 for for translation of Buddhist canonical work, "The Mahayana Sutra entitled Illumination of Noble Dreams"
2011: SSHRC Aid to Research Workshops Grant, for "Workshop on Tibet and the Literary"
2011, SSHRC Partnership Development Grant, for "Mapping an epic: religion and healing in the Inner Asian Epic of Gesar"
2010: SSHRC Research Development Initiative Grant, for "Gold, Statue, Text: Visualizing Movement in Tibetan History"
2009: SSHRC Image, Text, Sound and Technology Grant, for "Interpreting visual representations of Tibetan ritual"
2008: SSHRC Standard Research Grant, "Empowering the Medicine: The history and performance of a Tibetan ritual cycle"
2007: SSHRC small scale research award, for "Cataloging and Annotation of Video Archive of Tibetan Ritual"
2006: SSHRC SIG Grant, for "Transformations in Research and Teaching on Tibetan Buddhism with the Use of New Technologies"
2005: Connaught Fund, for "Narratives of Embodiment: Accounts of Illness in Tibetan Buddhist and Bon Literature"
2005: Connaught Fund New Staff Matching Grant, for "Narratives of Illness in Medieval Tibetan Literature"