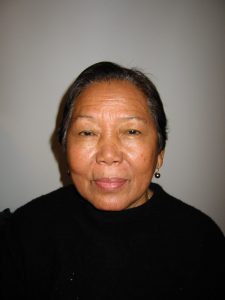 A generous gift from Christina and Peter Jose has created a yearly scholarship for a graduate student in Buddhist Studies in the Department for the Study of Religion. The gift was made in honour of Christina Jose's grandmother, Phool Maya Chen, who was born in Nepal and who moved to India as a teenager to marry a Chinese man living there. A devout Buddhist, she raised five children and eventually immigrated to Canada, where she worked tirelessly with the Buddhist community. The Jose family hopes that this scholarship will help students focused on the study of Buddhism achieve a level of education of which Phool Maya herself had always dreamed.
Christina Jose speaks about the significance of this scholarship
Award Winners of the Phool Maya Chen Scholarship in Buddhist Studies
2017-18
Andrew Dicks joined the Department for the Study of Religion as a doctoral student in September 2017.  He studied sociocultural anthropology, Southeast Asian studies, and information science at the University of Wisconsin in Madison (BA) and Milwaukee (MS, MLIS).  He is researching Buddhist soundscapes with a focus on historical and contemporary mediations of the Pali canon in Myanmar (Burma) where the Abhidhamma and Paṭṭhāna (Conditional Relations), in particular, are popularly studied and publically recited.  More broadly, he is interested in ethnography, textual studies, media and public culture, as well as aurality and knowledge production/transmission.
2016-17
Annie Heckman is a PhD student whose research focuses on the agency of non-humans in Tibetan life literature. After receiving her MFA in Studio Art (New York University, 2006), Annie spent several years working in the visual arts as an educator, artist, and designer, teaching at DePaul University (Visiting Assistant Professor 2011–2014) and at the Museum of Contemporary Art Chicago (Art & Dialogue specialist 2008–2015). Examining certain Tibetan texts as part of her studio research, Annie studied Tibetan language through the University of Chicago's Graham School before relocating to Toronto to pursue further studies. She has since received the Dipty Chakravarty Award for excellence in the study of South Asian Society, History, and Culture, and the Phool Maya Chen Award in Buddhist Studies.
2015-16
Larissa Fardelos is a PhD student who specializes in the Vajrayana Buddhist traditions of Northeast India and Nepal, with a particular interest in explicitly gendered religious texts and women's participation in ritual and practice. Larissa's research investigates the application and interpretation of medieval texts within contemporary religious communities, utilizing both anthropological methods as well as primary text interpretation.
Alexander O'Neill is a PhD student researching the role of paratexts in Mahāyāna Buddhist literature and their relationship to ritual, in particular, the contemporary rituals of the Newar Buddhism in Nepal. More generally he is interested in Mahāyāna Buddhism and anthropology. His language interests include Pali, Sanskrit and Newar. Read Alexander's story about his summer in Nepal.
2014-15
Rachelle Saruya is a PhD student with research interests in the realm of Myanmar-Burmese Theravada Buddhism and topics in gender and Buddhism, monasticism, Abhidhamma, and Burmese Buddhism in the US. Her background includes an MA in International Relations with a concentration in Political Society and Culture in Southeast Asia (Waseda University) and more recently an MA in Religious Studies from Lancaster University. Read Rachelle's story about her year in Myanmar.