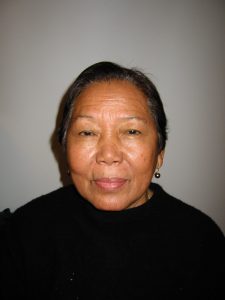 A generous gift from Christina and Peter Jose has created a yearly scholarship for a graduate student in Buddhist Studies in the Department for the Study of Religion. The gift was made in honour of Christina Jose's grandmother, Phool Maya Chen, who was born in Nepal and who moved to India as a teenager to marry a Chinese man living there. A devout Buddhist, she raised five children and eventually immigrated to Canada, where she worked tirelessly with the Buddhist community. The Jose family hopes that this scholarship will help students focused on the study of Buddhism achieve a level of education of which Phool Maya herself had always dreamed.
Award Winners of the Phool Maya Chen Scholarship in Buddhist Studies
2020-21
Thinley Gyatso is a doctoral candidate in the Department for the Study of Religion. After receiving his BA in history from Loyola College (Chennai, 2012), he did his MA in history from Jawaharlal Nehru University (JNU New Delhi, 2014). The Masters dissertation he wrote entitled "Christianity and Buddhism, Dialogue and Dilemma: a historical perspective." Subsequently he received MPhil in history from JNU (2016) with his thesis entitled "Mobility, Space, and Identity: Tibetan Nomadism in Eastern Kham, c.1880s-1980s" a look into the questions of religion and cultural identity and the historical dialogue of Buddhist practices and cultural narrativities in trans-Himalayan regions. Later he spent more than a year teaching as an assistant professor of history at the Centre for the Teachers' Education, Central University of Tibetan Studies, Varanasi (2016-2017).
While studying at JNU, Thinley presented a number of papers at various academic forums such as 14th Seminar of International Association for Tibetan Studies (IATS 2016) Norway, Annual American Anthropology and Ethnological Society Conference, Stanford University (2017), and 3rd and 4th Symposium in Memory of Professor Dawa Norbu, JNU. His wider research interests lie primarily in the area of historical studies of Trans-Himalayan regions: understanding of theoretical and methodological problems in dealing with the hermeneutics of Buddhist studies and dialogue of current religious practices and historical narratives. Thinley is a recipient of Phool Maya Chen Award in Buddhist Studies and the Dalai Lama Graduate Award 2020-2021.
2019-20
Austin Simoes-Gomes is a PhD student in the Department for the Study of Religion researching the various spirit possession traditions in the Kathmandu Valley (Nepal). His academic interests also include method and theory, children and religion, and Buddhist birth and embryological narratives. He received his B.A. Honours from McGill University and also spent a year studying the Rangjung Yeshe Institute (RYI). At RYI, he did some preliminary ethnographic work on Swayambhu hill with the local Harati dyaḥ māju, a woman who becomes possessed by a deity and then performs positive actions such as ritual healings, and divinations. His current research seeks to situate the dyaḥ māju and their practices in the wider socio-ethnic world and discourses of Nepal. This project will seek to demonstrate how female mediumship disrupts and rearranges established gender and power dynamics, but also how mediums recreate and re-purpose these hierarchical systems in a ritualized setting. In addition to ethnography, he will be employing a methodology inspired by the phenomenology of religion, rooted in personal subjective engagement, that does not compromise the objective treatment of 'social formations,' yet also mediates religious phenomena 'religiously'.
2018-19
Ian Turner is a PhD student in the Department for the Study of Religion researching contemporary Newar Buddhism in its daily domestic iterations, as these pertain to gender, labour, and time. Ian is interested in both the social and architectural articulations of space in Newar homes. Particularly, he is looking at how widespread economic, political, and social changes in the Kathmandu Valley influence domestic structures and personal engagements with ethnic and religious traditions. Food has become a central concern in Ian's work, Newar foodways being deeply imbeded in religious sensibilities and ritual practices. In Fall 2018, he organized an event with the support of the Ho Centre and the Culinaria Research Centre (UTSC) in collaboration with members of the Canadian Newa Guthi. Students and members of the public were taught about Newar food culture and festivals, and were given a demonstration on how to prepare certain dishes. Ian is currently receiving support from the Ho Centre to work with Canadian-Newar community partners in developing Newar language teaching materials.
Andrea Wollein is a PhD student at the Department for the Study of Religion. She received both her MA in Modern South Asian Studies and her BA in Tibetology and Buddhist Studies from the University of Vienna. Her dissertation deals with the current situation of Newar Buddhism, Tibetan Buddhism and Theravāda Buddhism in the ancient Nepalese town of Bhaktapur. In particular, her ethnographic case study seeks to explore the dynamics between these three Buddhisms.
2017-18
Andrew Dade joined the Department for the Study of Religion as a doctoral student in September 2017. He studied socio-cultural anthropology, Southeast Asian studies, and information science at the University of Wisconsin in Madison (BA) and Milwaukee (MS, MLIS). He is researching Buddhist soundscapes with a focus on historical and contemporary mediations of the Pali canon in Myanmar (Burma) where the Abhidhamma and Paṭṭhāna (Conditional Relations), in particular, are popularly studied and publically recited. More broadly, he is interested in ethnography, textual studies, media and public culture, as well as aurality and knowledge production/transmission.
2016-17
Annie Heckman is a PhD student whose research focuses on the agency of non-humans in Tibetan life literature. After receiving her MFA in Studio Art (New York University, 2006), Annie spent several years working in the visual arts as an educator, artist, and designer, teaching at DePaul University (Visiting Assistant Professor 2011–2014) and at the Museum of Contemporary Art Chicago (Art & Dialogue specialist 2008–2015). Examining certain Tibetan texts as part of her studio research, Annie studied Tibetan language through the University of Chicago's Graham School before relocating to Toronto to pursue further studies. She has since received the Dipty Chakravarty Award for excellence in the study of South Asian Society, History, and Culture, and the Phool Maya Chen Award in Buddhist Studies.
2015-16
Larissa Fardelos is a PhD student who specializes in the Vajrayana Buddhist traditions of Northeast India and Nepal, with a particular interest in explicitly gendered religious texts and women's participation in ritual and practice. Larissa's research investigates the application and interpretation of medieval texts within contemporary religious communities, utilizing both anthropological methods as well as primary text interpretation.
Alexander O'Neill is a PhD student researching the role of paratexts in Mahāyāna Buddhist literature and their relationship to ritual, in particular, the contemporary rituals of the Newar Buddhism in Nepal. More generally he is interested in Mahāyāna Buddhism and anthropology. His language interests include Pali, Sanskrit and Newar. Read Alexander's story about his summer in Nepal.
2014-15
Rachelle Saruya is a PhD student with research interests in the realm of Myanmar-Burmese Theravada Buddhism and topics in gender and Buddhism, monasticism, Abhidhamma, and Burmese Buddhism in the US. Her background includes an MA in International Relations with a concentration in Political Society and Culture in Southeast Asia (Waseda University) and more recently an MA in Religious Studies from Lancaster University. Read Rachelle's story about her year in Myanmar.