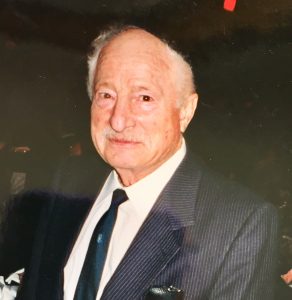 In 2018 the Department for the Study of Religion established a bursary to support one student per year to study Pāli, for the next five years. The teaching of Pāli was introduced this year into the curriculum and has attracted interest among undergraduates and graduates studying South Asian religions, and Buddhism in particular.
This scholarship has been established in honour of William Levman (1916-2003), father of Bryan Levman (PhD Religion, 2014), who currently teaches Pāli in the Department for the Study of Religion. The financial award is intended to assist graduate students who want to learn what the Buddha taught in the language closest to what he actually spoke. Historically Pāli can be reliably traced back to approx. the third century BCE and some parts of it undoubtedly go back to the Founder, who is believed to have died sometime in the late fifth century or early fourth century BCE.
William Levman was a gentle man, tolerant, loving, and although not religious himself in a conventional way, he embodied many of the ideal qualities of a Buddhist, notably compassion, selflessness and kindness to everyone he met, relatives, friends or strangers, and instilled these same qualities in his four children.
2019-20 and 2020-21 Bursary Winner
Zhinan Jiang is an MA student at the Department for the Study of Religion where she also received her BA. Her research focuses on Buddhist cosmology with a special interest in contextualization of Pali cosmography and astronomy manuscript from Burma. More generally, she is interested in the scientific Buddhist literature in the Pañcavidyā.