Details
October 23, 2019
All Day
Jackman Humanities Building, Room 319
170 St George St

---
Please join us for a week-long study of the epic Maṇimēkalai.
About the text:
The Maṇimekalai is a Tamiḻ-Buddhist epic of the 6th century, composed by the enigmatic author Cāttaṉār. Maṇimekalai, daughter of the courtesan Mātavi, elects to renounce the matrilineal family business to pursue itinerant asceticism. She struggles to escape the karmic pull of Prince Utayakumaraṉ, her husband of prior births. Whisked away to the Southeast Asian island of Maṇipallavam by the like-named goddess Maṇimekalā, she ultimately wins the endlessly-replenishing alms bowl, Amutacurapi and with its aid follows the path of Buddhadharma.
Workshop:
We will be reading from the first chapter, the Viḻāvaṟai Kātai, the preparations for the festival of Indra in the port city of Pukār, and the sixteenth, the Ātirai Piccaiyiṭṭa Kātai, wherein the magical begging bowl is activated by receiving its first food.
Registration:
We welcome members of the public to join us for this workshop. To register, please contact Dr. Srilata Raman (s.raman@utoronto.ca) or buddhiststudies@utoronto.ca.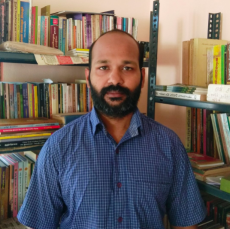 Instructor: Prakash Venkatesan (French Institute, Pondicherry)
Prakash Venkatesan is Senior Research Fellow at the French Institute in Pondicherry, India. Prakash specializes in Classical Tamil literature. He has worked on the preliminary cataloguing of the Gros Collection for the University of Toronto.
Time: October 23rd – November 1st 2019, 3-6pm
Dates and places:
October 23 – Room 319
October 24 – Room 319
October 25 – Room 319
October 28 – Room 213
October 29 – Room 319
October 30 – Room 319
November 1 – Room 319
Venue: Jackman Humanities Building, 170 St. George Street, 3rd floor, Toronto