An Evening of Newar Ritual and Culinary Culture
Details
September 28, 2018
5:00 pm - 8:00 pm
Culinaria Kitchen Lab, SW 313 (Science Wing), UTSC
1265 Military Trail

---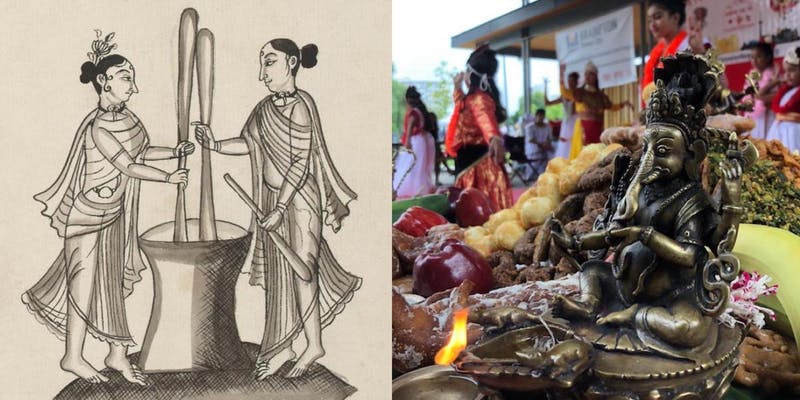 The Newars are the indigenous inhabitants of Nepal's Kathmandu Valley, a diverse community of Buddhists and Hindus who maintain rich ritual traditions that preserve some of the earliest forms of South Asian religiosity. Newar civilization, which grew out of the Valley's rich alluvial soil, is inseparable from its agricultural roots and culinary traditions. Held on the occasion of the annual 'Samaya Baji' food celebration, local members of the Canadian Newar Guthi will explain the centrality of food in Newar ritual and cultural life. Hosted in the kitchen-classrooms of the Culinaria Research Centre (UTSC), participants will be taught to prepare a number of staple recipes, and sample the numerous dishes that comprise the Samaya Baji feast.
Attendance is limited, be sure to register to secure your spot! https://www.eventbrite.ca/e/samaya-baji-at-utsc-an-evening-of-newar-ritual-and-culinary-culture-tickets-49369150458
---
Co-Sponsored by the Canadian Newa Guthi, Ho Centre for Buddhist Studies, & the Culinaria Research Centre
Canadian Newar Guthi (Brampton): Based on a traditional model of community organization, the Guthi works to sustain and develop the social, economic and professional capabilities of Newar and overall Nepalese communities living in Canada and Nepal and to promote Newar and Nepalese cultures.
Ho Centre for Buddhist Studies (University of Toronto, St. George):  Supports academic training, collaborative research with graduate and undergraduate students, and a program of events that engage scholars and the public seeking to deepen understanding of the diversity of Buddhist traditions around the world.
Culinaria Research Centre (University of Toronto, Scarborough): A multidisciplinary initiative that blends research excellence with community engagement and student research experience.