Details
January 23, 2020
3:00 pm - 5:00 pm
Jackman Humanities Building, Rm 317
170 St George St

---
University of Toronto/McMaster University
YEHAN NUMATA BUDDHIST STUDIES PROGRAM 2019-20
WEN-SHING CHOU (Hunter College, City University of New York)
LECTURE: Refuge in the Empire: Visualizing Kingship in Qing Dynasty China
THURSDAY, January 23, 2020, 3-5pm, University of Toronto, JHB 317
In 1757, the Qing Qianlong emperor of China sent a portrait of himself to Tibet with the express instructions that the image serve as his surrogate for making pilgrimages and receiving veneration. The portrait, which subsequently became an object of veneration in the Potala Palace in Lhasa, features the emperor in the guise of an ordained Buddhist monk, king, and deity at the center of a vast spiritual pantheon above a paradisiacal landscape. At least a dozen similar works were produced at imperial workshops in Beijing throughout the latter half of the eighteenth century. This lecture examines how Qianlong's portraits harnessed the efficacy of vision, materiality, lineage, and liturgy within an Indo-Tibetan ritual framework to effect and affirm a Qing-centered Buddhist orthodoxy.
READING GROUP: "Landscape and Lineage"
FRIDAY, Jan. 24, 2020, 4-6pm, McMaster, University Hall 122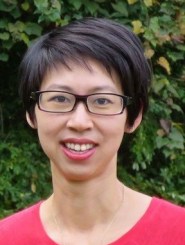 Wen-shing Chou specializes in art of China and the Himalayas. She holds a BA in Art History from the University of Chicago (2001), and a MA and PhD in History of Art from University of California, Berkeley (2011). Chou's research focuses on the relationship between religion and empiricism in early modern visuality, and the intersection of history, geography, and biography in Buddhist traditions. Her first book, Mount Wutai: Visions of a Sacred Buddhist Mountain (Princeton University Press, 2018) examines the Inner Asian transformation of the Buddhist pilgrimage site of Mount Wutai in northern China during the eighteenth and nineteenth centuries.