Details
February 27, 2020
3:00 pm - 5:00 pm
Jackman Humanities Building, Rm 317
170 St George St

---
University of Toronto/McMaster University
YEHAN NUMATA BUDDHIST STUDIES PROGRAM 2019-20
RONGDAO LAI (McGill University)
LECTURE: Tiantai Transnationalism: Mobility, Identity, and Lineage Networks in Modern Chinese Buddhism
THURSDAY, February 27, 2020, 3-5pm, University of Toronto, JHB 317
Current scholarship on modern Chinese Buddhism has tended to focus heavily on the globalized reform organizations that emerged in Taiwan in the last few decades. The success of these groups has made it easy to overlook other more "traditional" Buddhist networks that followed different expansion paradigms in forming local and translocal connections. Despite their decentralized nature and fluidity, these networks remain immensely powerful and influential in shaping Chinese Buddhist practices and border-crossing activities. Focusing on the Tiantai lineage network, this lecture will explore the transnational forms of circulation, the intersection between identity and institution, and the visions of orthodoxy in modern Chinese Buddhism.
READING GROUP: "Rewriting Orthodoxy: Historical Production in Twentieth-Century Chinese Buddhism"
FRIDAY, February 28, 2020, 4-6pm, McMaster, University Hall 122
Rongdao Lai is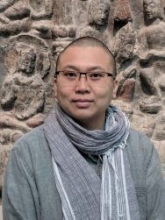 Assistant Professor of Religious Studies and East Asian Studies at McGill University. She received her PhD in Religious Studies from McGill University in 2014, and was based at the University of Southern California before returning to Montreal. She specializes in modern Chinese Religions, focusing especially on the changing landscape in Chinese Buddhism and identity production. She is co-editor for the Eastern Buddhist feature on Socially Engaged Buddhism (2014). She has recently completed a book manuscript, based on her doctoral dissertation, on modern Buddhist education and citizenship in China. Her other on-going projects include Chinese Buddhist networks and transnational movements, and monastic economy in the twentieth century.