Details
April 12, 2019
All Day
The Munk Centre, 108N, North House
1 Devonshire Place

---
You are invited to attend the following special guest lecture by Professor Kerry Lucinda Brown (Savannah College of Art and Design):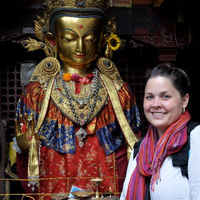 Time: Friday, April 12, 06:00—08:00 PM
Location: Munk Centre for Global Affairs, 108N—Seminar Room, North House
Lecture: "In the Presence of the Divine: Identity and Meaning in Newar Buddhist Art" as part of the lecture series The Newars and their Neighbours
Vibrant colors and pulsating sounds of religious devotion punctuate the streets and gullies of Nepal's Kathmandu Valley. Among the Valley's Newar Buddhist community, art and ritual work in concert to make the divine present in the urban landscape of the city. For Newar Buddhists, art and ritual performance reinforce core philosophical principles and cultural ideals related to sacred space and ritual cosmology. This lecture examines the role of festivals and image processions in manifesting the divine in the city of Patan. The vibrant ritual festivities and artistic traditions build layers of sacred geography and Buddhist cosmology into the streets and courtyards of the city spaces. Thus, this lecture explores the creation of sacred space in the city of Patan through festivals and other celebrations to examine how the Newar Buddhist community navigates the diversity of religious experience in the Kathmandu Valley to ultimately reaffirm their own religious identity.
Kerry Lucinda Brown, Professor of Art History at Savannah College of Art and Design, is a specialist in South Asian and Himalayan art. Her research explores the relationship between art and religious identity in Nepal's Kathmandu Valley, situating Newar Buddhist art within the larger context of South Asian Buddhist heritage.