Details
June 18, 2019
9:30 am - 5:30 pm
New College Library
20 Willcocks Street

---
Workshop: Tuesday 18 JUNE
Culinaria Research Centre (UTSC) & New College
NOTE: This event is currently almost full, but please still email us if you wish to attend (and have not RSVP-ed already) and we will add your name to a waitlist. Please specify if you wish to attend for the morning, the afternoon, or the whole day. If you did RSVP before 29 May and find yourself unable to attend on 18 June, please email the organizer Dr Jo Sharma (sharma@utsc.utoronto.ca) and we will allot your place to the next person in line.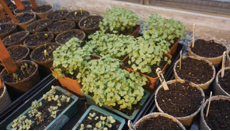 This one-day event provides an opportunity for individuals and communities interested in urban farming and agriculture to hear from leading practitioners in Toronto, share stories, build networks, and see UTSC's rooftop garden, urban farm, and the Culinaria kitchen lab. With speakers and facilitators drawn from Toronto's Indigenous, settler and newcomer communities, as well as contributions from university faculty and students, this event is a forum for cross- cultural sharing and an opportunity to highlight food security and social justice initiatives of importance to the city's academic and non-academic communities alike.
REVISED SCHEDULE
9:30 am–12 pm: MORNING, NEW COLLEGE LIBRARY (20 Willcocks Street)
9:30 am: Coffee & Light Snacks, New College Welcome & Workshop Introduction:
Sharing Histories of Urban Gardening: Dr Jo Sharma (Culinaria) & New College Staff
10 am–11 am: Roundtable: Indigenous & Newcomer growers share practical knowledge of gardening for food security: Mr Issac Crosby (Evergreen), Mr/Mrs Mustafa (Bangladeshi Agriculturists) & Ms Ashrafi Ahmad (Regent Park Community Food Centre)
Facilitated by Ms Sarah Elton (UofT) and Discussant Professor Donna Gabaccia
11–11:25 am: Ms Rhonda Teitel-Payne: Toronto Urban Growers & grower-to-grower initiatives
11:25–12 noon: Introductions & Discussions.
12 pm–1 pm: Lunch from Syrian newcomer caterers Beroea Kitchen
1 pm–2 pm: All-day participants travel by pre-arranged chartered bus to UTSC
2 pm–5:30 pm: AFTERNOON, CULINARIA RESEARCH CENTRE & UTSC EDIBLE CAMPUS
2–3:30 pm: UTSC farm & garden tours with Dr Beatrice Lego, rice grower Ms Jewel Gomes & informal group conversations
3:30–4:30 pm: Sharing community growing stories from the Danforth, Parkdale, Scarborough and elsewhere: Access Alliance & Greenest City community gardeners from Caribbean, Bengali, Tamil, Tibetan backgrounds (names tbc); Refreshments from community caterers
4:30 pm: Histories & Futures of the GTA's Urban Agriculture: Keynote Session with Ms Cheyenne Sundance and Ms Lorraine Johnson
5:30 pm: Workshop ends and people take TTC express buses from UTSC to Kennedy subway (Note: There is plenty of paid visitors' parking at UTSC that people are welcome to access on their own – see the university website – but TTC is the easiest & quickest mode of transport in the evening if returning downtown, therefore no other arrangements are being made).
ASSOCIATES & SPONSORS: Access Alliance Danforth; Culinaria Research Centre; Evergreen Brickworks; Greenest City; Ho Centre for Buddhist Studies; Intellectual Community Fund UofT Department of History; Milky Way Community Garden, Parkdale; New College; Toronto Urban Growers; UTSC Campus Farm & Edible Campus Initiative; UTSC Partnerships Office
We wish to acknowledge this land on which the University of Toronto operates. For thousands of years it has been the traditional land of the Huron-Wendat, the Seneca, and most recently, the Mississaugas of the Credit River. Today, this meeting place is still the home to many Indigenous people from across Turtle Island and we are grateful to have the opportunity to live, study, work, and grow on this land.