Details
October 25, 2018
10:00 am - 5:00 pm
The Munk Centre, 108N, North House
1 Devonshire Place

---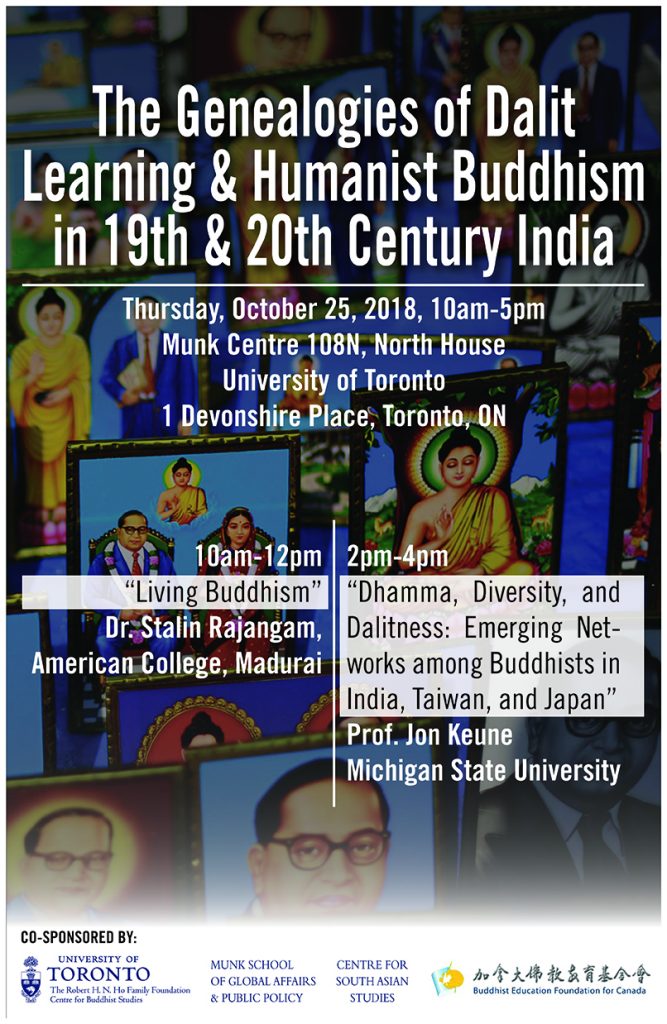 Conveners: Christoph Emmrich and Srilata Raman
10am-12pm Lecture followed by Discussion
Dr. Stalin Rajangam (American College, Madurai): "Living Buddhism"
Living Buddhism: the term signifies that Buddhism isn't dead and that it continues to flourish. I see the term as discursively important: it is abstracted from Tamil social reformer Iyothee Thass Pandithar's (1845-1914) writings. I shall draw on his usage of the term but also go beyond it. In other words, I begin with an examination of his thought-world but will go on to note how it acquired a further lease of life in the thought and work of those who came after him, including of Dr Ambedkar.
2-4pm: Lecture followed by Discussion
Professor Jon Keune (Michigan State University): "Dhamma, Diversity, and Dalitness: Emerging Networks among Buddhists in India, Taiwan, and Japan."
In the past two decades, Buddhists in Nagpur who inherit Dr. B. R. Ambedkar's legacy have cooperated increasingly on institution-building and educational projects with Zen Buddhists from Taiwan and diverse sects of Japanese Buddhists. My presentation explores the distinct hopes, assumptions, and interests that each group brings to the encounter and how they try to negotiate differences. I focus on three examples of how these transnational networks are rendered visible: the Indo-Japanese collaboration that built the Dragon Palace Temple near Nagpur, the projects of the Nagpur-based Japaneses monk Shurei Sasai, and an educational partnership between the Nagaloka Buddhist Training Centre in Nagpur and an independent Zen monastery in central Taiwan. By observing transnational flows of people, resources, and cultural capital through these sites, I consider the prospects and challenges of appealing to a common "Buddhism" at work in them to bridge cultural and sectarian differences, and I reflect on the impact this transnational networking has especially on Dalits who participate.
A co-sponsored event between the Robert H. N. Ho Family Centre for Buddhist Studies, The Buddhist Education Foundation for Canada, and The Centre for South Asian Studies at University of Toronto.