Details
July 4, 2019
7:00 pm - 8:30 pm
Room 208, Main Activity Hall, Multi-Faith Centre
569 Spadina Ave.

---
Update July 3, 2019: Due to an issue with travel visas this event is cancelled. We apologize for the inconvenience and look forward to seeing you at our programs and events in the upcoming academic year.
Mental health, anxiety, and depression affect many people around us, young and old alike. This event is a presentation and dialogue with a high master of Tibetan Buddhism, the 104th Ganden Tripa, about Buddhist tools and responses to dealing with these problems at both individual and social levels. Dr. Ellen Katz who teaches in the Factor-Inwentash Faculty of Social Work and in New College at the University of Toronto will mediate questions from the audience about how to counter negative self-talk and mental anguish, and how to work towards a stronger, more resilient, mind.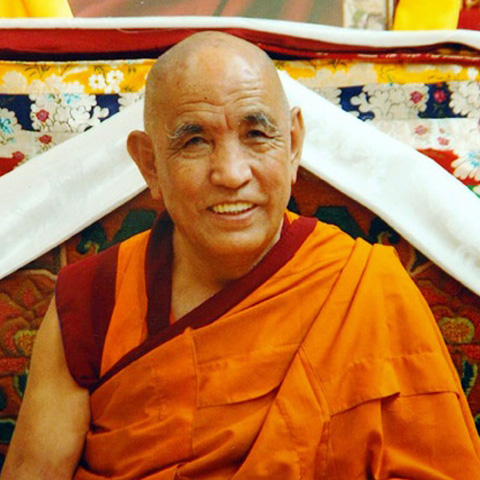 His Holiness Ganden Tri Rinpoche
Ganden Tri Lobsang Tenzin Paksangpo (or Rinpoche) is a leading Tibetan Buddhist scholar who was appointed by H.H. the Dalai Lama as the 104th Ganden Tripa, the head of the Geluk school of Tibetan Buddhism.His seven year appointment is based on academic merit and is not part of a reincarnation lineage. Je Tsongkhapa (1357–1419), the first Ganden Tripa, founded the Geluk school in the 14th century. Born in Tibet in 1934 and ordained as a monk at the age of seven, he studied to earn the highest degree of Geshe Lharampa in 1979, and has taught about Buddhist philosophies for many years. He is presently the Director of Gyume Tantric College in India.
Thursday, 4 July 2019, 7:00–8:30 pm
Main Activity Hall, Multi-Faith Centre, University of Toronto
569 Spadina Avenue, Toronto, ON M5S 2J7
 Sponsored by The Robert H.N. Ho Family Foundation Centre for Buddhist Studies at the University of Toronto.