Details
December 3, 2019
12:00 pm - 2:00 pm
Jackman Humanities Building, Rm 318
170 St. George St

---
Please join us this Fall and Winter for a series of working group meetings in which we critically engage with the medium of podcasts as used for teaching and academic communication.
RSVP here: https://forms.gle/1gwU6DyZZCxWn36Q7
Thur. Sep 19 – Discussion: Meeting one another and exploring podcasts
Thur. Oct 10 – Workshop: Interview techniques with Dr. Susan McReynolds (CBC producer, host, director and newsreader)
Tues. Nov 12 – Discussion: Using podcasts for teaching
Tues. Dec 3 – Workshop: Demystifying audio production and components with Jelena Jurak (CBC Audio Producer)
[Winter event dates and themes forthcoming]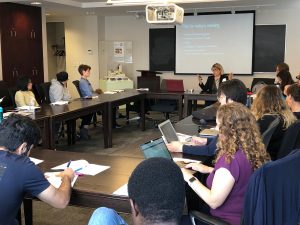 Susan McReynolds, CBC Producer
I grew up in Dublin where I attended Ard Scoil La Salle College. I moved to Northern Ireland to study literature at the University of Ulster as an undergraduate and later as a PhD candidate. I completed my thesis in Irish women's literature in 1999 and immediately began teaching in the university's media studies department. At around that time I also started my broadcasting career, first with BBC Northern Ireland, later for RTE (the Irish national broadcaster) and eventually making my way across the ocean to CBC. When I started at BBC, I had no training at all. My then manager said she was willing to take a chance on hiring me and felt that I had enough natural curiosity to do the right thing in an interview. It seemed to work and I hosted a daily morning current affairs show for BBC for the next eight years. During that time, I was also busy putting together an academic and practical radio broadcasting undergraduate degree course, which I directed for three years before moving to Canada. Now I work as a CBC producer, host, director and newsreader on a variety of news, current affairs and music programmes since I moved here ten years ago. Sometimes, I'm even the weather lady. Canada has taught me that survival information is a thing. Wind chill factor and humidex have become my friends. Who knew?
Jelena Jurak, CBC Audio Producer
Jelena Jurak has a life long passion for learning about all aspects of sound. She had a fulfilling career as a musician, a record producer assistant, an audio postproduction assistant, and editor for Hollywood features and a live monitor engineer. Her latest interest is learning about sound therapy. Jelena initially received her education in music and audio recording in Belgrade, Serbia. Since making Canada her new home in 1999, she obtained a diploma in Recording Arts from Toronto Audio Recording Academy and an advanced diploma from Humber College in Film and Television Production. Over the last 10 years Jelena has also focused on her second career, a registered social worker in private practice, while continuing to work as a technical producer for CBC's national radio show, Cross Country Checkup.